Students brave cold in support of homelessness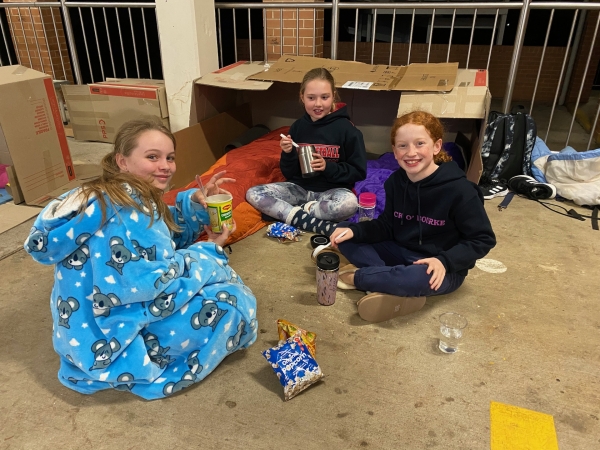 On one of the coldest nights experienced by NSW this winter, our students and teachers at Ss Peter and Paul swapped the comfort of their warm homes for cardboard boxes, raising more than $1700 for the St Vincent de Paul Vinnies Winter Appeal.
Staff and students from the school's Mini Vinnies and Social Justice teams participated in the sleepout in their school hall from 6-9 pm. Students built their own shelters from cardboard and were required to bring a simple dinner, to experience a deeper understanding of homelessness and the realities faced by a growing number of people across Australia each night.
Peter Michael, Principal of Ss Peter and Paul attended the night and said, "It was a night of games, discussion, action, song, and prayer; a wonderful educational experience for our students."
"I experienced something I've never felt before. I feel grateful to have a roof over my head and a warm bed to go home to every night and can now empathise with people living on the streets," Jewel, a student member of the Social Justice team said.
For Eloise, a student representative from the school's Mini Vinnies team, participating in the sleepout was eye-opening. "This experience really opened my eyes to how tough the living conditions are for those who are homeless - especially during the winter months. This has inspired me to go out and tell other people about it."
Members of the National Evangelisation Team (NET) and a young seminarian currently on placement at Ss Peter and Paul Parish, worked with the students educating them on the plight of homelessness.
As part of students' continuing faith journey, Ss Peter and Paul provide opportunities for students to put their faith into action.
"We hope this opportunity will inspire students to continue to advocate and be involved in social justice as they grow into adulthood," Emma Groves, Religious Education Coordinator said.
If you would like to support the Vinnies Winter Appeal 2022 please visit https://donate.vinnies.org.au/winter-appeal